Renapur Leather Balsam is a high-quality leather conditioner and protector that is specially formulated to rejuvenate and nourish your leather items. It is made from natural ingredients including beeswax, jojoba oil, and carnauba wax, which work together to provide a deep conditioning treatment that leaves your leather looking and feeling soft and supple. Renapur Leather Balsam is easy to apply and absorbs quickly into the leather, providing long-lasting protection against moisture, stains, and scratches. It can be used on a wide range of leather items, including shoes, boots, jackets, bags, and furniture. With regular use, Renapur Leather Balsam will help to extend the life of your leather items and keep them looking their best.
A Product you can trust
Your favourite brands and millions of customers around the world continue to trust Renapur to Restore, Condition and Protect their favourite leather.
A little goes along way!
One 200ml pot is enough to treat...
How to use Renapur Leather Balsam
Renapur Leather Balsam is incredibly easy to use and takes just a few simple steps.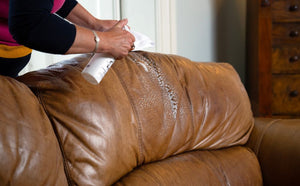 1. Clean the leather
If your leather is worse than everyday dirt, you should clean the leather with Renapur Leather Cleaner first.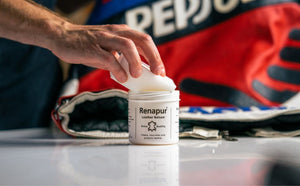 2. Dip the Sponge
Remove any excess from the side of the pot, a little goes a long way with Renapur Leather Balsam.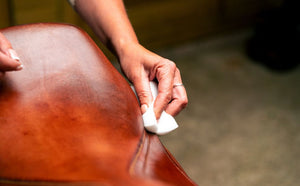 3. Work into the Leather
Use the sponge to work the Leather Balsam into the leather ensuring you cover all surfaces.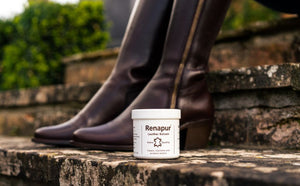 4. Ready to go!
Your leather product will now be conditioned, looking its best, and protected against any little mistakes.
Note
Renapur Leather Balsam should always be tested on a small inconspicuous area before use. Renapur Leather Balsam is suitable for most smooth leather and should not be used on suede, nubuck, or aniline leather.